The very long walk
Release of "The very long walk" and what it is
---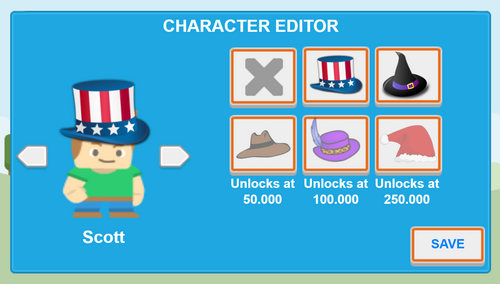 Why did you make "The very long walk"?
Greetings! Maybe some of you know that Construct 3 (C3), the latest version of the game creation engine I use, is currently in beta.
I created this little mini game to test the new GUI and features coming with C3. It helped to find several bugs of which most are already fixed in the latest build and allowed me to see if it's worth the yearly subscription fee (Construct 2 was a one time purchase without extra costs).
As owner of C2 I will get a 50% discount for the first year and I will try it and hope I can finish some bigger projects to get some donations or sales to afford the annual fee of C3. I will also try to stream some game development on Mixer (Beam) in the future to let anyone interested watch how a game is built in C3.
What's it about?
"The very long walk" is an endless runner game where you can choose one of 5 playable characters and unlock hats for them to wear. Just play it a few times to accumulate points to unlock them.
Is it free?
It was free at first but costs 0,99 €UR/$US now to help me fund the Construct 3 subscription to make more games.

Files
TheVeryLongWalk_1.0.1_win32.zip
49 MB
Jun 02, 2017
TheVeryLongWalk_1.0.1_MAC64.zip
68 MB
Jun 02, 2017
TheVeryLongWalk_1.0.1_linux32.zip
66 MB
Jun 02, 2017